Introduction
I presented a data visualization and dashboard design workshop back in November of 2013 with a colleague of mine at the Information Builders Toronto office. In the presentation, I showed off a dashboard design that incorporated some of the concepts that we taught in the workshop.
My colleague and I will be presenting the workshop at Information Builders 2014 User Conference on Monday June 9th from 2:00PM to 3:00PM. Hopefully, you will have a chance to join us.
For those who are interested, I have an implementation of the dashboard in WebFOCUS. I have used multiple techniques here to demonstrate the flexibility of WebFOCUS. The three main techniques I've used in my implementation:
Out-of-box GUI driven implementation
Gadget approach
Use of jQuery plugins
Running the application
There are several steps to ensure that the dashboard will run. This section will walk you through them.
Step 1: Setup
Create an application folder on your Report server called website-ops
Download these files 

and place them in your website-ops application folder on the Report Server
I am assuming that your WebFOCUS Client (web server) has a folder called "baseapp"; this is where all the web assets will be stored including css files, javascript files, and images.
Download these files  and place them in your baseapp folder on your web server.
You have the ability to upload Excel files and create synonyms off of them; if you don't, you'll have to be creative in how you get the sample data in.
Step 2: Running the dashboard
In the website-ops app folder, look for the file called web_ops_dashboard_clean.htm and run that. If you get 404 errors, you may have to do the following:
Open it in HTML Composer
Look for an element called btn_run using the top right drop down list and select that
Change the display property to 'not set'
The button should appear below the dashboard
It should already be selected; if not, do so
Right click on the button and select the Hyperlink Properties menu item
Re-create the links – the iframe has been named to make it obvious which fex file you should hook it up to
This is what your dashboard should look like: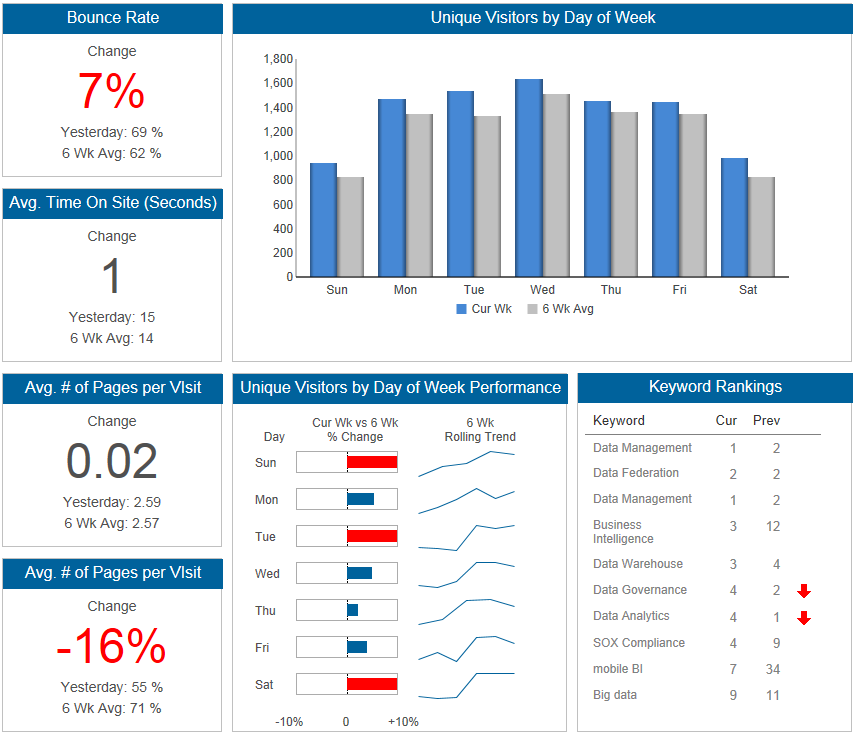 If you are still having problems with getting this to run, shoot me an email at: chiang_sandy@hotmail.com